The Cain Team's Ricky Cain is a Guest Speaker in the Upcoming Real Estate Mastermind Event in Dallas TX
Posted by Megan, Client Concierge on Monday, November 28, 2016 at 8:30 AM
By Megan, Client Concierge / November 28, 2016
Comment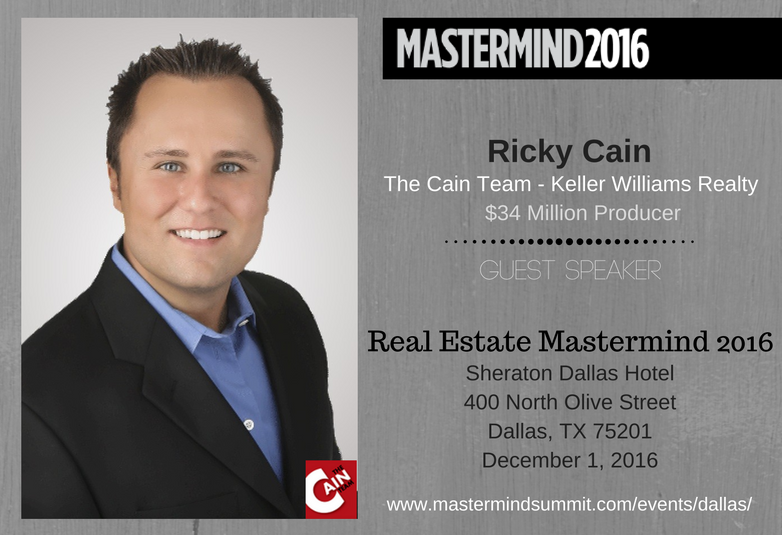 Cain Realty Group's Ricky Cain is proud to be a part of one of the largest events for realtors in Texas. This coming December 1, 2016, Ricky will participate as a guest speaker at the 2016 Real Estate Mastermind event in Dallas, Texas. The local event features top producers in the area who have succeeded in today's cut throat market in spite of the changing mortgage industry. Among the topics that will be discussed at the event are current turnkey strategies, predictable real estate systems, and effective marketing techniques that can help maximise your lead conversion.
Here is a quick excerpt from the official website of Real Estate Mastermind:
At Real Estate Mastermind and Mastermind 2017 we are serious about helping real estate agents and mortgage originators who are serious about creating stable, healthy, personally fulfilling businesses. The real estate business is fun, creative, challenging and filled with possibilities. What it's not is easy or effortless. If you are looking for a "get rich quick," "I don't want to spend any time," "business should be easy" approach to building a mortgage or real estate business, this is not the place for you. You can create a personal business that gives you time, freedom and money, but it will take work. We are here to help, but we can only help the Realtors®, originators, managers and executives who are willing to work for it. We take pride in getting our clients results, but we are only half of the equation.
The event will be held at the Sheraton Dallas Hotel, 400 Olive Street, and will take place on December 1, 2016 from 9:00AM to 4:30PM. Here is the initial schedule of events posted at their website: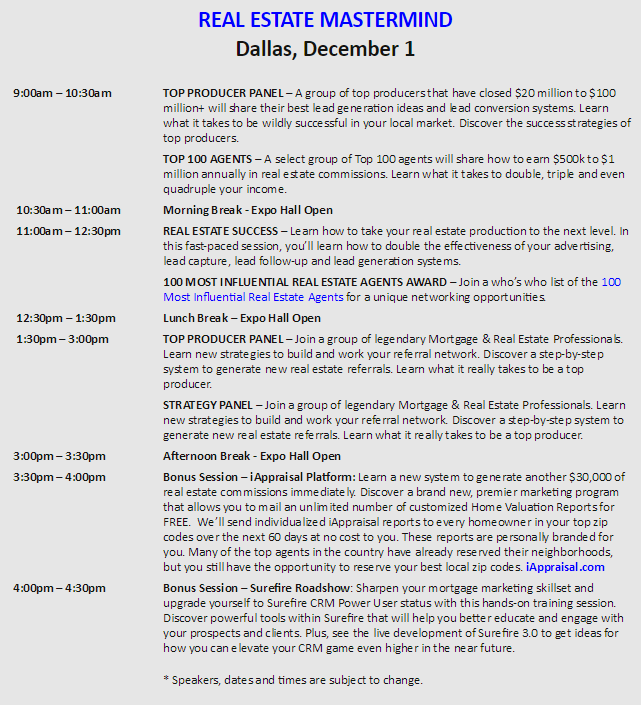 Seating is very limited, so if you would like to make a reservation, all you have to do is click on this link.