The Cain Team is Ready to Give to the Community with Cain Cares
Posted by Karen Phan on Friday, October 28, 2016 at 9:00 AM
By Karen Phan / October 28, 2016
Comment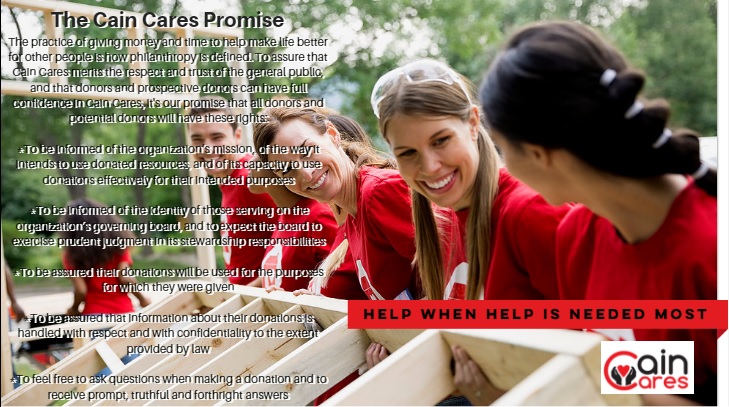 About Cain Cares
As a real estate company known for its commitment to deliver a sincere and personal touch while providing exceptional real estate service, it's no surprise that Cain Realty Group has conceptualized a project that would embody its commitment to genuine care while we take care of your business. We are proud to bring you Cain Cares.
Our mission is simple; Cain Cares is here to provide help to our past clients and their families when it is most needed. Our non-profit advocacy aims to give hope to those in dire need who feel that they may have exhausted all options and can no longer seek assistance anywhere else. If you feel overwhelmed with the life challenges you are facing, we understand that and we eagerly want to help. At Cain Cares, it's not just about giving money for charity; we exist because we are committed to give you the assistance you need, AND the time to help you feel that, through it all, the circle of family around you is bigger than how you know it, and a lot of people are willing to help.
The Cain Cares Promise
The practice of giving money and time to help make life better for other people is how philanthropy is defined. To assure that Cain Cares merits the respect and trust of the general public, and that donors and prospective donors can have full confidence in Cain Cares, it's our promise that all donors and potential donors will have these rights:
*To be informed of the organization's mission, of the way it intends to use donated resources, and of its capacity to use donations effectively for their intended purposes
*To be informed of the identity of those serving on the organization's governing board, and to expect the board to exercise prudent judgment in its stewardship responsibilities
*To be assured their donations will be used for the purposes for which they were given
*To be assured that information about their donations is handled with respect and with confidentiality to the extent provided by law
*To feel free to ask questions when making a donation and to receive prompt, truthful and forthright answers
If you would like to know more about how Cain Cares works, please click on this link that redirects to our official website.
Like what you're reading and ready to help? We LOVE your love for the community, and we are happy to get all the help we can get.
Please feel free to get in touch with us for any questions or concerns you may have here.