The Cain Team is Giving Away Amazon Echo Dots this Spring!
Posted by Connor Client Concierge on Wednesday, March 15, 2017 at 12:00 PM
By Connor Client Concierge / March 15, 2017
Comment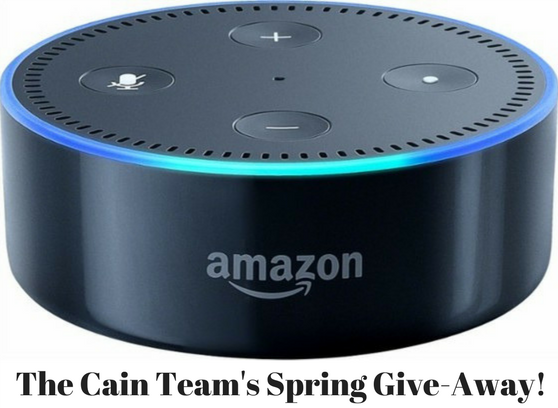 Who do you know that's considering selling their home in the Austin TX area? Simply introduce us and we'll be more than happy to give you a FREE Amazon Echo Dot as a "thank you" gift once your referral hires us to exceed their expectations!
This Spring from March 20th to June 20th, 2017, we'll be giving away this awesome freebie as a thank you for the kind gesture.
Are the people you know planning to sell at a later date? No problem! All you have to do is make the introduction, and then they hire us during this period. Even if it's best for them to wait until the Summer or Fall, so long as the meeting and agreement happen during this promotional period, then you qualify for this awesome gift!
But how about if you dont know anyone, you say? No problem! If you think this cool offer is something you can't pass up (heck, you've been planning on selling up and moving to that amazing mansion next door anyway!), refer yourself (yep, we're not joking!) and you'll walk away with this techie gift AND a promising home sale transaction in the near future!
You've Convinced Me! How Do I Refer Cain Realty Group to those I know?
All you have to do is send the name of your referral, their contact information and their address to [email protected]. We'll commit to exceeding their expectations and we'll make you look like a rockstar for referring us!