SELLER Tip: How to Get Ready for an Unscheduled Home Showing
Posted by Ricky Cain on Thursday, September 1, 2016 at 5:00 PM
By Ricky Cain / September 1, 2016
Comment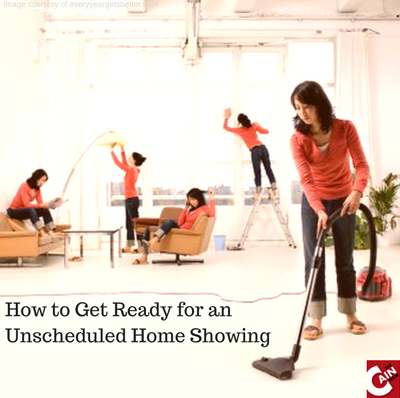 Most realtors acknowledge that home showings should ideally be scheduled and well-planned to give sellers ample time to prepare their home and set their schedules accordingly. Ample preparation can help sellers make the right impression in order to please buyers and help them decide in favor of purchasing their home. But what if you have to impress the buyer who is coming over in 10 minutes instead of the scheduled appointment next week?
Don't fret, since you can still make use of those 10 minutes to showcase your home in its best light, even if you haven't cleaned the house yet, the dogs haven't taken a bath (and they're supposed to be at your mom's for the showing!), and you have a date tonight! All you have to do is follow Realtor's advice on how to prep up your home for a showing in 10 minutes and you're good to go:
1. Brighten up your home-- A light-filled home exudes an aura of energy and positivity to house visitors, more so prospective buyers, so make sure to turn on the lights, pull up the blinds, pull the curtains apart, and let the sunshine in as much as you can. The positivity can influence buyers into feeling that the home presents good energy-- plus points for buyers who believe in the power of good vibes!
2. Get rid of bad smells-- as soon as your agent calls about the buyer who is on his way, take out the trash, put all dirty clothes in the laundry bin, and spray the bathrooms with a strong cleaner. Also, don't forget to remove any leftover food in the kitchen that could be giving clues to your visitors about the meal you just had. Coffee grounds on small bowls placed strategically in the rooms can help neutralize the smells.
3. Make you bed-- the house is still your home, but you don't want to show the buyer too much of your personal side. You want them to envision being the owners of your home. Make the bed even if you don't like doing it. Better yet, cover everything up with a fresh comforter that would hide all the sheets you've stubbornly refused to change for the past two weeks!
4. Clean the countertops-- Cleaning the kitchen is a day's work, so if you only have less than 10 minutes (after brightening up the house, taking out the trash, and fixing that confounded bed!), the most practical way to present your kitchen in its best light is to clean the countertops. Squeaky clean sparkling, if you may. Show them that in spite of your busy lifestyle (often used as an excuse for your refusal to clean up!), the workmanship of the house stands out because of the fine materials used in building it.
5. Get out!-- It's sorely tempting to stick around and listen to the buyer croon (or complain!) about your home, but it's probably best you leave. Buyers are ALWAYS not comfortable around sellers, so as soon you do steps 1 to 4, pass it on to your agent. The expert will do the selling for you, and you're probably better off using your unexpected break to get a coffee or stroll at the mall-- whatever to fill in the time you have in your hands.
Unexpected home showings aren't actually a bad thing; having them can be rattling only if you don't know how to handle it. With these Realtor tips in mind, you will surely handle this like a pro next time (althought it would be better if the next ones would come with a scheduled appointment!)