Ricky Cain Named as One of 2016's 100 Most Influential Real Estate Agents in Texas by Real Estate Executive Magazine
Posted by Connor Client Concierge on Monday, November 28, 2016 at 10:00 AM
By Connor Client Concierge / November 28, 2016
Comment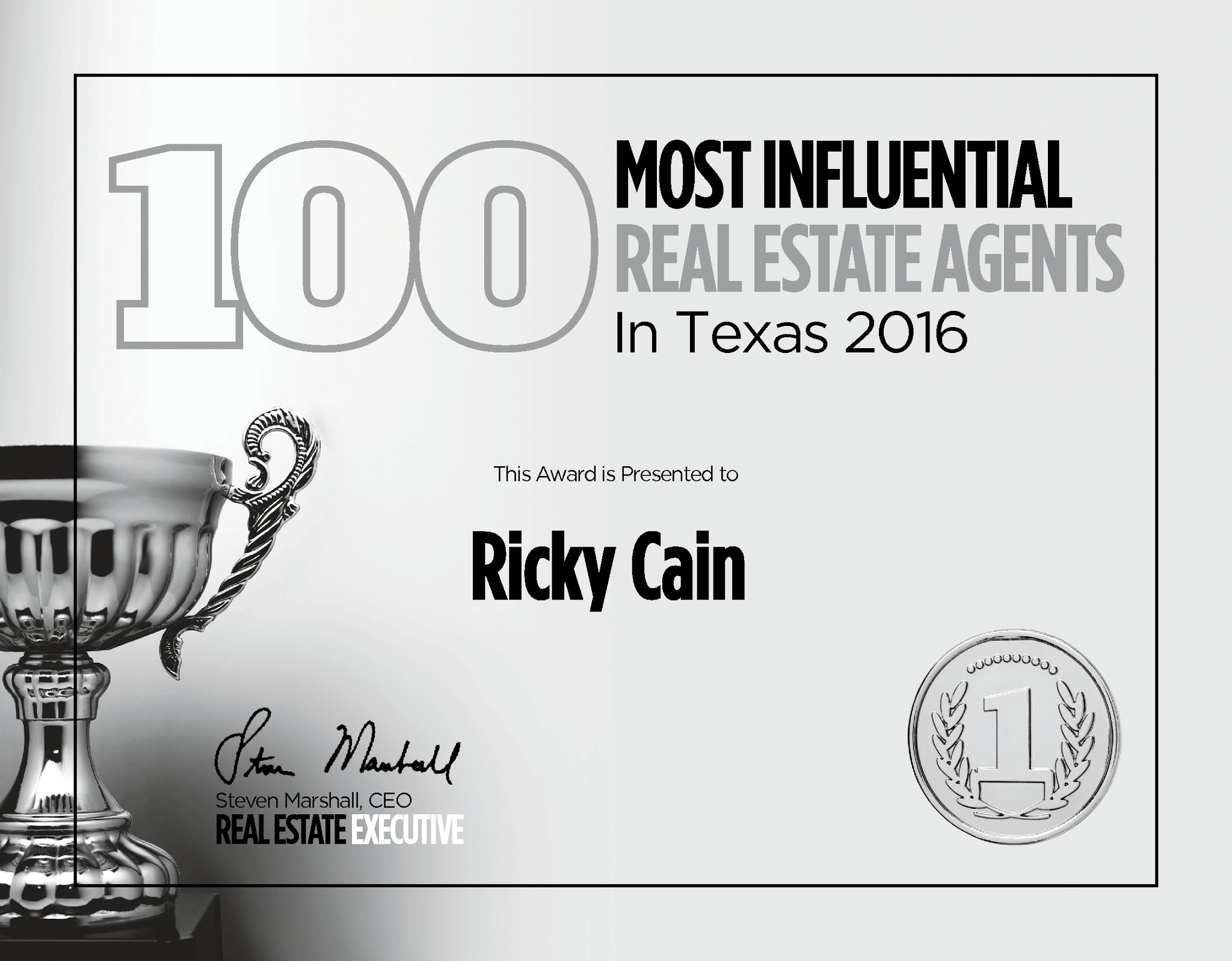 Cain Realty Group's Ricky Cain has been chosen as one of 2016's "100 Most Influential Real Estate Agents In Texas" by The Real Estate Executive Magazine. The publication conducted a comprehensive analysis of the top performing real estate companies in each state and came up with a list of awardees that are featured in their Winter 2016 issue. The publication explains that the purpose of the awards is to "seek to recognize and celebrate the service, dedication, and hard work that real estate agents put into building their companies and serving their clients."
Awards Received by Cain Realty Group
2016 is truly an awesome year for "Austin's Most Trusted Home Buying and Home Selling Team" as The Real Estate Executive Magazine adds to the list of awards the team has received this year. Ricky and his team was recently listed in the Platinum Top 50 awards for 2016 and was subsequently nominated for another spot in the 2017 awards. As a finalist in the 2012 and 2013 awards, awardee for three consecutive years (2014, 2015, 2016), and nominee for the upcoming 2017 awards, Ricky and his team has once again proven themselves as one of the most influential real estate companies in the greater Austin area. Here are some of the other awards received by the Cain Realty Group:
Austin Business Journal #7 Top Producing Team 2014
Austin Business Journal Top Producer Nominee 2010, 2011, 2012, 2013
Five Star Realtor Award Winner 2010, 2011, 2012, 2013, 2014
Keller Williams Realty Regional Cultural Ambassador Winner 2014
Keller Williams Realty Eagle Award Winner
Keller Williams Realty Bronze Award Winner 2009
Keller Williams Realty Silver Award Winner 2010
Keller Williams Realty Gold Award Winner 2011
Keller Williams Realty Double Gold Award Winner 2012
Keller Williams Realty Platinum Award Winner 2013, 2014
US Commerce Association Award 2011, 2012, 2013, 2014
About Ricky Cain
Aside from being the founder of power realty team, Cain Realty Group (formerly called Cain Realty Group), Ricky is also a MAPS Coach, mentor, founder of non-profit organizations Cain Cares and Cain Club, and the brains behind My Referral Agent—a fast-growing and innovative referral system that is connecting agents and streamlining real estate services all over the U.S. The commitment of Ricky and his team to provide excellent real estate service with a heart is bound to continue in the years to come, and with Ricky Cain's team working on a rapid expansion, all we could do is wait and see how Cain Realty Group, as guided by Ricky's principles of service, professionalism, and sincere commitment, will change real estate in Austin as how we know it.
Do you want to know more about Ricky Cain and his rockstar team? Read this post or check out our blog on the links provided. You can also get in touch with us by sending us a message or by calling us at (512) 522-4659.