Promising New Austin Residential Developments are Seeking Affordable Housing Tax Credits in Exchange for Offering Affordable New Homes
Posted by Ricky Cain on Wednesday, February 1, 2017 at 10:00 AM
By Ricky Cain / February 1, 2017
Comment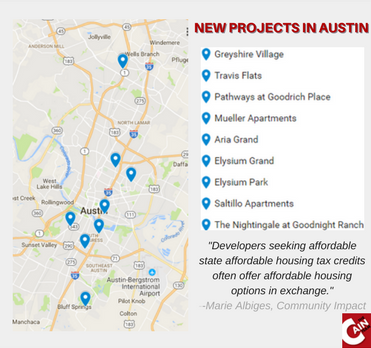 Real estate developers are hoping that the Austin City Council will approve their move to support state affordable housing tax credits in the hopes of offsetting the building costs of nine new developments in the city.
The highly competitive 9 percent Low Income Housing Tax Credit Program allows developers to offset a portion of their federal tax liability in exchange for creating affordable housing.
The program offers investors a chance to buy tax credits to offset other taxes by investing in multi-family rental development projects in exchange for making a certain percentage of the homes affordable.
Austin City Council is expected to consider supporting the 9 proposed developments at its Feb. 9 meeting.
If approved by Council, the resolutions will be submitted—along with each development's tax credit application—to the state's Department of Housing and Community Affairs for consideration. The funds would come from the U.S. Treasury Department via the Internal Revenue Code.
Developers will find out in July whether their applications were approved.
Proposed developments requesting resolutions of support for 2017 Low Income Housing Tax Credit Program:
Greyshire Village—95 Affordable units, 105 total units

The Nightingale at Goodnight Ranch—140 affordable units, 175 total units

Saltillo Apartments—100 affordable reasons, 110 total units

Travis Flats—122 affordable units 146 total units

Pathways at Goodrich Place—108 affordable units, 120 total units

Elysium Grand—90 affordable units, 105 total units

Elysium Park—90 affordable units, 105 total units

Aria Grand—95 affordable units, 105 total units

Mueller Apartments—129 affordable units, 129 total units
The original article from which this post was based can be accessed here.