New Statistics Prove Home Staging Pays Off When Selling a Property
Posted by Grace Theriot on Monday, July 24, 2017 at 9:47 AM
By Grace Theriot / July 24, 2017
Comment
Home staging gains traction among real estate agents as a secret weapon in the selling process, with 62 percent of Realtors® saying they believe home staging helps decrease the amount of time a property stays on the market according to the 2017 Profile of Home Staging from the National Association of Realtors.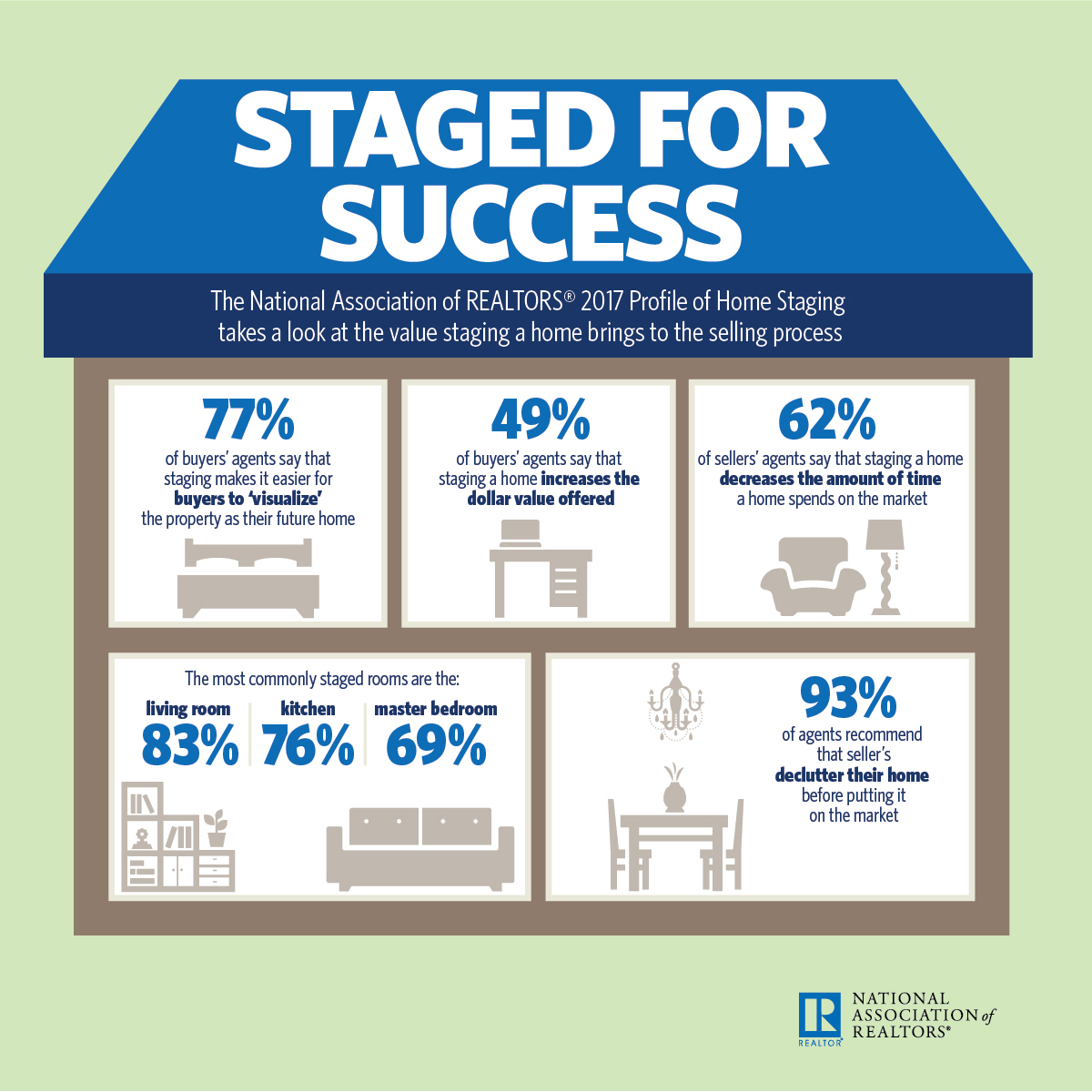 More than Decluttering
The NAR survey found that 93-percent of agents recommend that sellers declutter their home before putting it on the market, which all home stagers would agree is a crucial step in the process, but there is more to home staging than just decluttering. Preparing a home for sale means staying on top of cleaning and decluttering tasks. Plus, seeing what updates the home could use, for instance, fresh paint or accessories and make any necessary repairs needed (whether visible or not). Staging also involves showcasing which is the process of arranging furniture and accessory placement, using proper art, lighting in a space and of course getting professional photos shot to show off the property online.
Seeing is Selling Power
77 percent of buyers' agents said that staging a home makes it easier for buyers to visualize the property as their future home, and 40 percent are more willing to walk through a staged home they first saw online. 38 percent of buyers' agents said that staging positively affects a home's value if the home is decorated with the buyer in mind. This proves that home sellers need to set their own feelings aside about their property and belongings to feature only what buyers are interested in seeing. A buyer will pay more for a house if it satisfies their needs.
Staging Rooms
As for what rooms to stage, a majority of agents said the living room is the most important, followed by the master bedroom, kitchen, and any outdoor space. Staging the main areas of the home is key to show buyers the potential lifestyle buyers could adopt if they purchased the property. Also, consider highlighting positive features and unique spaces on the property with staging to make it stand out among the neighboring competition.
Home staging doesn't have to cost a lot! The report found that among buyers' and sellers' agents both agree that staging improves the dollar value of the home by 1 to 5 percent. This statistic reinforces the idea of you have to spend money in order to make money. Want to learn more about what projects to complete in order to add more value to your property by properly preparing it for sale?