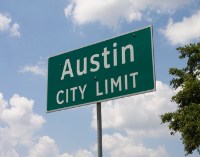 Austin nabbed the No. 1 spot for the third year in a row on the Forbes' list of "America's 20 Fastest Growing Cities."
Several factors contributed to Austin ranking highest on the list again. The capital city's economy has been booming in part due to the growing student body at the University of Texas, as well as powerhouse corporate businesses like Whole Foods and Dell, and several newer startup companies in Austin.
Texas has been a powerful force during the economic recovery. The US Census Bureau reports that over 427,000 people moved to the Lone Star State from 2011 to 2012. Dallas and Houston also ranked high on the list, as well as San Antonio....