Millennials Contributing to Fast-Paced Austin Real Estate Market
Posted by Connor Client Concierge on Thursday, June 4, 2015 at 3:28 PM
By Connor Client Concierge / June 4, 2015
Comment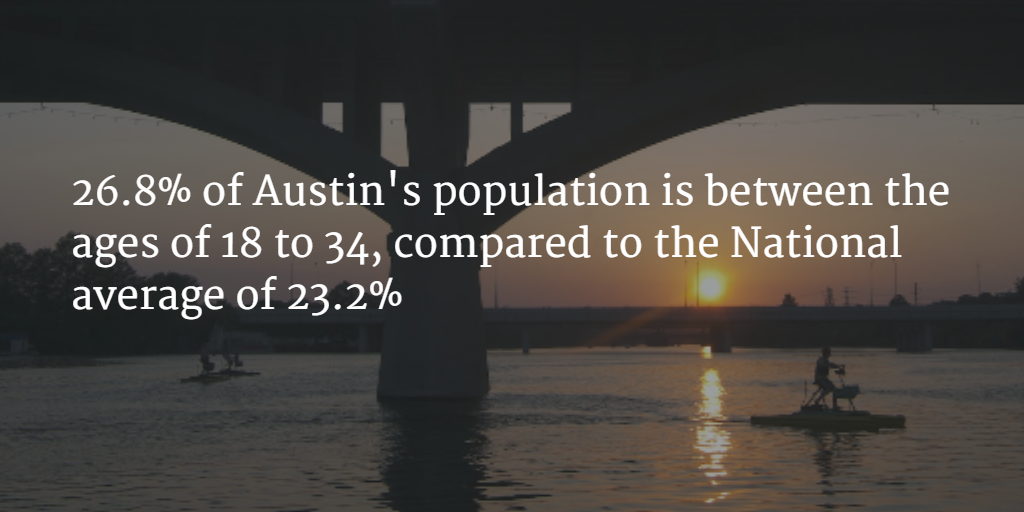 If you thought there were a lot of young adults in Austin, you're right! Millennials - the population demographic between the ages of 20 to 34 - are moving to Austin in droves, according to new data published in Bloomberg Business this week. The report cites population statistics that reveal the trend-setting Millennial crowd are preferring to make Austin real estate home over primary real estate markets like Houston, Los Angeles or New York. Austin ranked 7th overall in secondary market cities that experienced the greatest population growth of Millennials between 2010 and 2013.
A real estate brief by Bloomberg Brief Editor Aleksandrs Rozens, read that "Millennials, many
saddled with college debt, are following job opportunities to smaller metropolitan areas — secondary cities — where the cost of living is less than in primary cities such as New York and Los Angeles." According to a survey conducted by housing agency Fannie Mae, Millennials are just as interested in owning their own homes as their predecessors in previous generations. In fact, many housing analysts view the demographic as the key to boosting rates of home ownership.
"Investors who once may have shunned secondary cities have gotten creative to understand which cities hold the greatest promise," said Nancy Lashine, managing partner at Park Madison Partners, to Bloomberg. "Austin, Texas, Salt Lake City, Dallas, Denver, and San Diego—these are all cities where there is a very high concentration of Millennials." She went on to say that "Millennials want to live, work, and play in an urban area." Lashine should know. She's been raising capital for private equity funds specializing in real estate for nearly three decades.
Other factors are driving Austin's amazing real estate market. The high-tech sector is a major economic driver in Austin, which is attracting a younger generation that gravitates to those types of jobs. Also, because the city is considered a secondary real estate market, Austin real estate is still more affordable than its primary market competitors. In terms of quality education, Austin offers seven flagship colleges and universities. And since Austin is one of the best places in the world to call home, many of the graduates from the universities decide to make a home here rather than move away.