Feb. 5: Last Day for Nominations for the 2016 Residential Real Estate Awards
Posted by Grace Theriot on Friday, February 5, 2016 at 5:30 PM
By Grace Theriot / February 5, 2016
Comment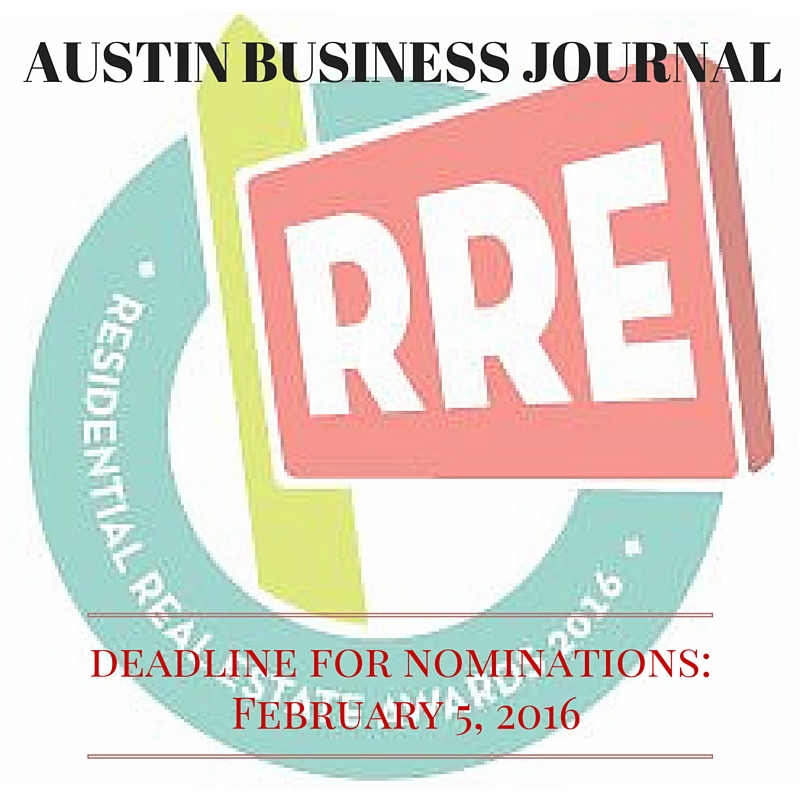 Today is the last day of submission for nominations for the 2016 Residential Real Estate Awards. The Austin Business Journal will celebrate the top names in residential real estate at the Hilton Austin on Fourth Street on March 3, 2016 to acknowledge top-performing real estate agents and home builders who have played an important part in Austin's population growth and economic success. Nominations for individuals and teams may be submitted through this link.
For those who would like to attend the awards luncheon (which is a perfect opportunity to make new connections and establish networks), tickets are available for reservation.
The awards are separated into categories for individual agents and multi-agent firms. In the 2015 RRE Awards, Cord Shiflet was the top-ranked solo licensee real estate agent with a record-breaking $51.5 million in sales for 2014; Kathleen Bucher won the award for list of agents with 2-3 licensees for total sales of $56.3 million; Tim Heyl won the award for agencies holding 4-7 licensees with a cool $84.9 million in sales, and; Andy Allen ranked as the top agent with 8+ licensees with a total of $58.7 million in sales. Do you know an agent who is worthy of nomination? You can check out the eligibility requirements here.
Awards will also be bestowed upon homebuilders under four categories: custom, production, green home and master-planned community. Eligibility requirements and other details for these awards can be accessed at the Austin Business Journal website.