The Cain Team Team Volunteers on Annual KW RED Day
Posted by Connor Client Concierge on Thursday, May 9, 2013 at 3:12 PM
By Connor Client Concierge / May 9, 2013
Comment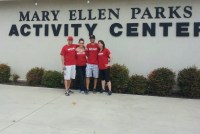 The team at Cain Realty Group with Keller Williams Realty volunteered at the Central Texas Children's Home in Buda during Keller Williams RED Day on May 9th. The entire team spent the day painting the administrative building, as well as a barn and horse stables for the children's home.
RED Day is a Keller Williams annual tradition to help give back to the local communities. Each year on the second Thursday in May, Keller Williams agents, staff and teams go our into the community a volunteer time and manpower for a gamut of special projects ranging from building homes, cleaning up beaches and refurbishing parks, to volunteering at local food shelters. Each individual Keller Williams Market Center chooses their own projects to participate in based on their local community's needs.
This year the Southwest Market Center volunteered at both Maybridge and the Central Texas Children's Home. Projects ranged from moving furniture, painting, resurfacing drives, washing cars, building fences, assisting in a carnival, maintenance, clean-up, gardening and more. An estimated 200 volunteers from Keller Williams came out to support these projects.
The Central Texas Children's Home is a 152 acre campus that was established in 1969 and has helped over 900 children. This facility helps children in need or those without a home have a safe place to grow and learn, and provides a family unit for the children.
The team and Cain Realty Group feels so blessed to be a part of Keller Williams RED Day and is grateful to have the opportunity to provide assistance and manpower for the Central Texas Children's Home. More information on Keller Williams RED Day is available online at http://www.kw.com/kw/redday.html.