The Cain Team Awarded at Austin Keller Williams SWMC Awards Ceremony
Posted by Connor Client Concierge on Wednesday, March 13, 2013 at 6:14 PM
By Connor Client Concierge / March 13, 2013
Comment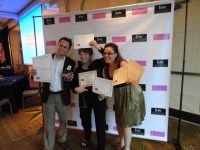 Last Friday, Cain Realty Group attended the Keller Williams Awards Ceremony for the Southwest Market Center. The team brought home 8 different awards, including agent Ricky Cain nabbing the top honors of the day for the prestigious Eagle Award.
Cain Realty Group placed in the top 10 for individual agents at the SWMC in over 7 different categories including Top Listing Units, Top Closed Volume and Top Closed Units. Cain Realty Group also received a Certificate of Recognition for being the #3 referral source for mortgage banker United Lending.
The most touching moment occurred when Ricky Cain received the 2012 Eagle Award. This award is the highest level of achievement a Keller Williams Real Estate Agent can reach. This award is voted for by peers at the market center, and represents an agent that best exemplifies the Keller Williams culture. This award honors agents with the highest values, morals and integrity in the industry.
"I'm actually shaking, because I know the people who have gotten this before, and I don't feel like I'm as superior as they have been," Cain said during his acceptance speech. "So my committment this year is to up my contributions, and make it so that I feel in my heart I truly deserve to be with these people."
The awards ceremony took place at the Barton Creek Country Club on Friday, March 8th.