Austin's Stature as a Top Technology Hub is Reinforced in a New National Research Report
Posted by Connor Client Concierge on Thursday, July 13, 2017 at 9:15 AM
By Connor Client Concierge / July 13, 2017
Comment
Austin's stature as a top technology hub is reinforced in a new national research report ranking it #7 among the top 25 U.S. tech cities. The top 25 tech cities were determined by analyzing the concentration of factors such as talent, capital, and growth opportunity – key ingredients that comprise a tech stew.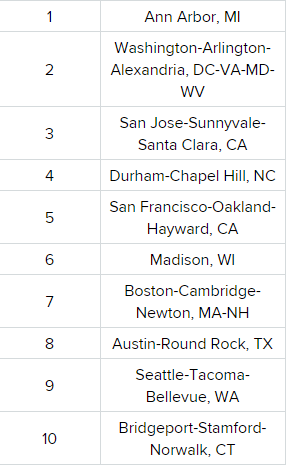 Some of the major categories (as defined by Moody's Analytics) include:
Computer systems design and related services
Pharmaceutical and medicine manufacturing
Computer and peripheral equipment manufacturing
Software publishers
Telecommunications
Data processing, hosting, and related services
Medical and diagnostic laboratories
Tech workers in the U.S. have hit a record high of more than 6.92 million in 2016, surpassing the previous peak of 6.86 million in 2001. Not surprisingly, San Jose (Silicon Valley) has the largest percentage of tech workers to total nonfarm jobs at 27.4%; San Francisco/San Mateo is next up at 15.6%
To read more about the Innagural Report Click Here.