Austin Third on List of Cities Stealing Jobs from Wall Street
Posted by Connor Client Concierge on Friday, June 27, 2014 at 1:08 PM
By Connor Client Concierge / June 27, 2014
Comment
During the economic recovery since the Great Recession, large financial institutions have been shifting large percentages of their employment pool away from the traditional financial centers. An analysis by New Geography of recent and longer-term employment trends have identified the large cities - designated by over 450,000 jobs - that are gaining jobs in the financial sector. Austin made the number 3 spot on the list, beating out previous financial employment goliaths such as San Francisco, New York and Los Angeles.
Motivation behind the Move
Mainly propelling the move to smaller metro areas is the desire to economize on salary and office expenses. In the years preceding the Great Recession, financial institutions seemed to prefer to concentrated their workforce in one area. But with the realization that not all responsibilities within the organization required face-time with clients, employers learned that moving mid-level or less crucial jobs away from expensive city centers resulted in lowered employment and office expenses.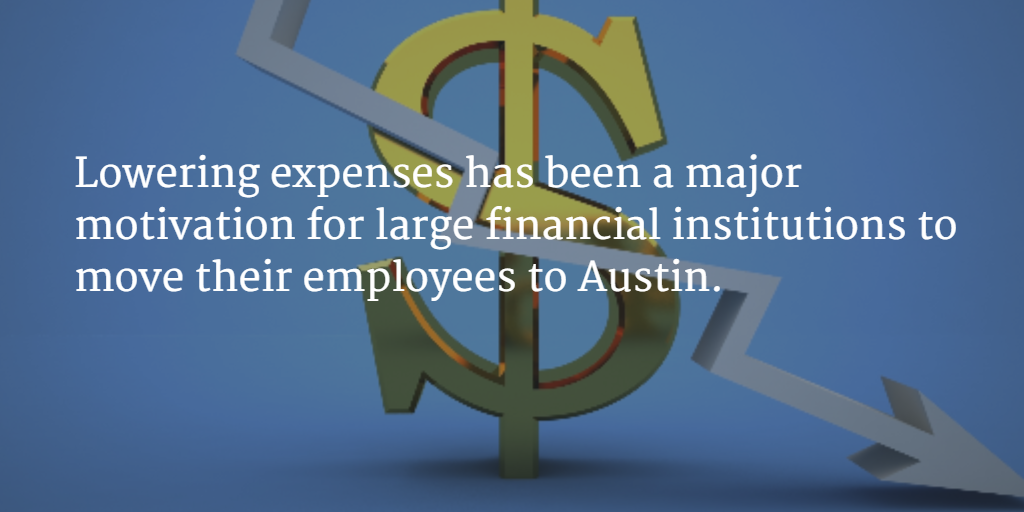 With fewer employees that need office spaces, the companies are able to reduce the amount they spend on rent. Additionally, positions in new areas with lower costs of living represents savings on salaries after adjustments for the new economic environment are made. In a report about the analysis on New Geography, co-authors Joel Kotkin and Michael Shires make an example illustrating the salary savings. "According to salary reporting website Payscale.com, the median financial manager in New York or San Francisco costs $90,724 to $98,783, respectively; while one in Phoenix costs only $77,467."
However, the advantages of the pay difference isn't just felt by the employers. A financial manager in Austin can live a far better life than their equally employed but more highly paid comrades in the traditional money centers. That's because the money an employee earns in Austin goes much further than the substantial sums their counterparts are paid. Smaller metro areas like Austin can offer employees a more affordable lifestyle than large cities that were once financial bastions.
A Diverse Advantage
Another advantage that the study authors observed was the ability to cater to a diverse client base and to take advantage of financial trends. For instance, companies that want to service their Spanish-speaking clients will find abundant Spanish-speaking employees in cities like Austin. To take advantage of the mortgage trade, Austin again presents itself as an ideal employment hub with its booming real estate market.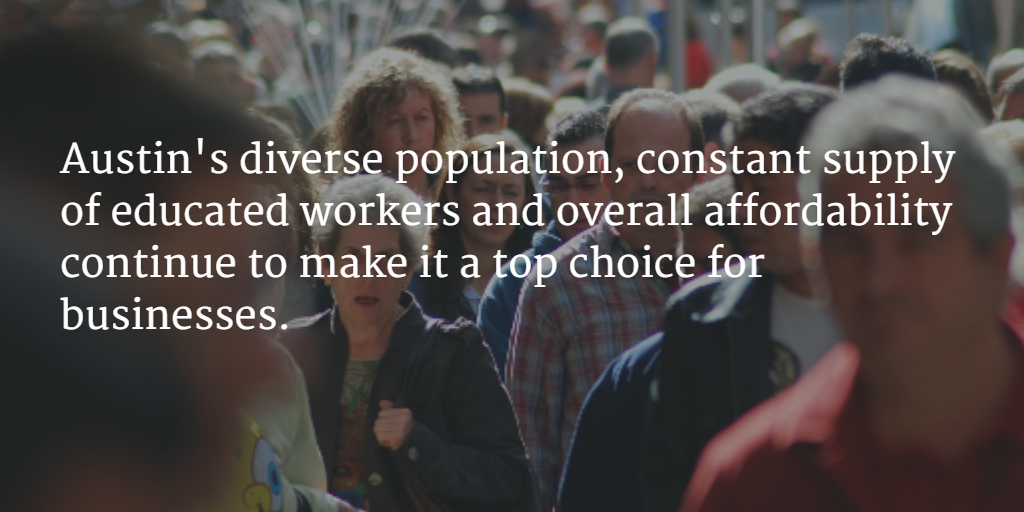 Continually growing since the Great Recession, the Austin real estate market has proven irresistible to large financial institutions. Kotkin and Shires wrote that "Firms concentrating on mortgages might also see advantages in locating in places like Nashville, Phoenix, Austin, Dallas and San Antonio, which are all expected to add many more households, according to a recent Pitney Bowes survey, than much slower-growing locales in California or the Northeastern seaboard."
Austin's Future Trajectory
Despite the likelihood that top-tier executives roles will remain in financial centers like New York and Los Angeles, the future looks promising for cities like Austin. according to Deloitte, the continued economic recovery will lead to further growth in financial industry employment. Already, financial institutions are also moving more crucial executive roles to smaller cities. And although Manhattan will undoubtedly remain the financial capital of the world, cities like Austin will continue to prove even more alluring to financial firms seeking new cities to house their employees.
As the financial sector flourishes during a prolonged economic recovery, Austin real estate will continue to strengthen with enduring job growth. Large financial institutions will have a steady supply of job-seekers that's continually replenished with graduates from the local colleges and universities. Austin's unique combination of affordability, diversity and favorable business environment will lure other industries to the city as well. The real estate market will continue to see gains as employees and employers alike take up residence in the best place in the state.