Austin Realtor Ricky Cain to be Featured on KEYE News Tonight
Posted by Connor Client Concierge on Wednesday, May 29, 2013 at 10:42 AM
By Connor Client Concierge / May 29, 2013
Comment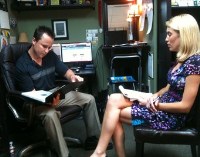 The team at Cain Realty Group with Keller William's Realty is pleased to announce that our favorite realtor Ricky Cain will be featured tonight, Wednesday, May 29, in a segment on Austin's KEYE news channel. The segment will air on KEYE during the 6 pm news on channel 5 for those with Time Warner Cable, AT&T U-verse, Suddenlink, or Grande Communications. Tune in to channel 42 for those with Direct TV or channel 910 for those with Dish Network.
During the interview, Ricky spoke about the real estate market in Austin, as well as trends the metro area has seen this year. Cain Realty Group client Tazia Salinas was also interviewed for this segment. The team at Cain Realty Group with Keller Williams Realty recently sold Tazia's South Austin home within hours under a multiple offer situation, and is currently working to find her a new house to purchase. Ricky addressed issues such as Tazia's in the KEYE interview, explaining to reporter Katherine Stolp that many seller's in today's market are now having "lease backs" on the home they sold so that they can pay rent to the buyers for weeks or months to provide adequate time to find themselves a new home to purchase.
Another Austin real estate trend Ricky touched on during the interview included rising home prices in the Austin area. Last year the average home price in the Austin metro area was around $260,000 while this year the average price is just over $300,000. With low interest rates and rising home prices, Ricky believes this is a great time to list or buy your Austin area home.
Austin's KEYE station has brought news to Central Texas since 1982. More information is available online atwww.keyetv.com.
Tune in to channel 5 tonight between 6:00 and 6:15 pm to catch Ricky's interview! If you can't watch tonight, then check the Cain Realty Group website and YouTube channel for the recap.