Austin Real Estate is the Best Bet for Investors, According to Forbes
Posted by Megan, Client Concierge on Monday, June 8, 2015 at 10:12 AM
By Megan, Client Concierge / June 8, 2015
Comment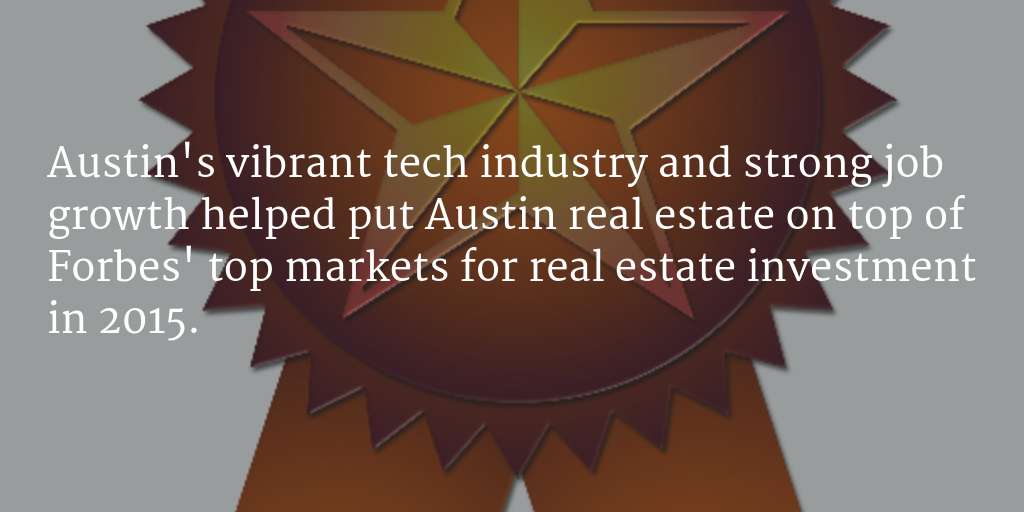 When one of the most trusted resources for the world's business and investment leaders releases its list of best areas to invest in real estate, the financial world listens. Making the top of the list is no small accomplishment, especially in this economic environment. This week, Forbes, a leading source for reliable business news and financial information, announced its top picks for real estate investment in 2015. It may not come as a surprise to those already reaping the benefits of purchasing Austin real estate that the Texas capitol topped the list this year.
Forbes teamed up with Local Market Monitor, a North Carolina-based data company that tracks home prices and economic factors in more than 300 housing markets, to find the top 20 housing markets to invest in this year. Together, they screened the 105 largest Metropolitan Statistical Areas (a geographical designation used by the U.S. Census Bureau that generally includes a core city and its surrounding suburbs), all with populations of at least 550,000. Each of the Best Buy Cities showed strong population and jobs growth, and relatively low home prices.
All cities on the list are places where opportunities are increasing as well as the populations. While the top 20 could all offer good opportunities for investment, the study authors favored those with the strongest population growth. According to the latest figures from the Bureau of Labor Statistics, Austin, Texas boasts a 3.6% annual job growth rate. That comes out well ahead of the 2% national average.
In a Forbes report that announced the findings, author Erin Carlyle wrote that the Austin metro area's population expanded by an impressive 8.9% between 2010 and 2013, which pushed Austin real estate higher up the rankings because of its strength over the national average for the same period. Population growth has been relatively flat in markets across the nation, coming in at less than 2% for the three-year period, according to U.S. Census data.
Another driving factor for Austin real estate dominating the list is a vibrant tech scene. As Carlyle wrote, "Whether you're an investor looking to pick up a few rental properties or a young professional interested in purchasing a first home, there are plenty of places where housing should be a pretty safe bet. The key is to buy in cities with strong job growth." Considering Austin's impressive job growth rate, low housing costs and economic diversity, it's no wonder why Austin real estate takes top place for real estate investment in 2015.