Austin Ranks High in Clean Technology Leadership
Posted by Megan, Client Concierge on Thursday, June 27, 2013 at 11:48 AM
By Megan, Client Concierge / June 27, 2013
Comment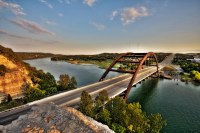 Austin ranked 11th in the country for clean technology leadership according to the 2013 Clean Technology Leadership Index reported by Clean Edge, an advisory and research board that was founded in 2000 specializing in the clean technology sector.
The index ranks cities across the country based on several factors, including green energy sources, hybrid and electric vehicles, green building deployment, smart meter installations, and clean economy jobs to name a few. Austin scored high in several categories including hybrid electric vehicle use, clean electricity and carbon management, clean tech venture capital, and clean-tech investment, innovation and workforce.
As a whole, Texas ranked number 22 for states, while California took the top spot in the nation. San Francisco placed first for cities, followed by San Jose and Portland.
Link to Austin Ranks 11th in Country to Clean Tech Leadership