Austin Ranked #9 with an Estimated Average Annual Growth in U.S. Metro Area Economies
Posted by Grace Diaz on Wednesday, July 20, 2022 at 9:00 AM
By Grace Diaz / July 20, 2022
Comment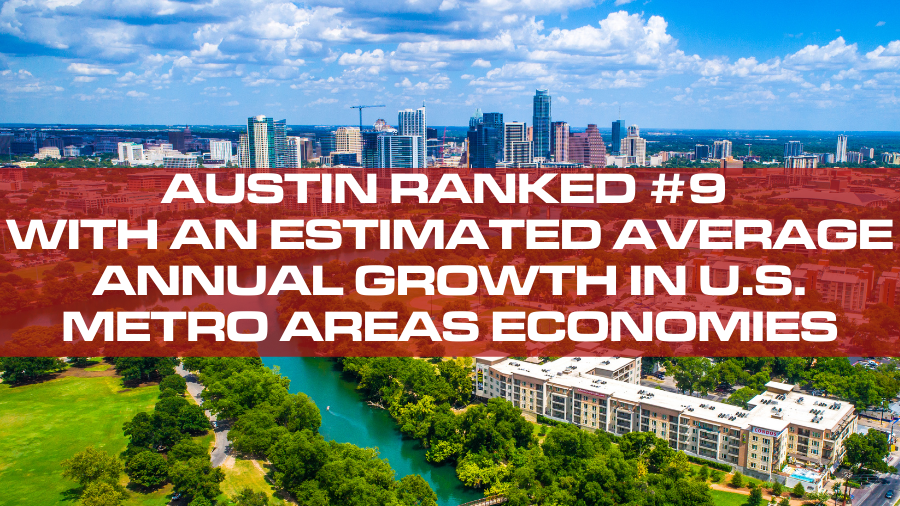 Notably, the U.S. economy recovered fast from the recession caused by the pandemic. The contribution of the metropolitan areas to income and economic growth increased in the year 2021. The labor market in different sectors (professional and business services, food services) improved.
According to the 2022 Metro Economies Report released by the United States Conference of Mayors (USCM), Austin ranked #9 with an estimated average annual growth rate of 4.2% (2021-2027). Austin is one of the largest metros that has regained the peak of employment by Q2 of 2021 and is forecasted to be one of the fastest-growing metropolitan economies through 2027.
As stated by the Chairman of the USCM Council, Columbus Mayor Andrew Ginther, "The pandemic tested American cities, but they have proven resilient and are now leading the nation back to economic strength. It's clear from this data that the nation's health is tied to the health of metro economies. Metro areas remain the powerhouse of the American economy, and this report validates the work mayors have been doing locally and the investment made by our partners at the federal level. Real economic challenges remain, but the future looks increasingly bright for American families and businesses."