Austin No. 1 Hottest Housing Market of 2021
Posted by Jenny Fernando on Tuesday, February 16, 2021 at 1:25 PM
By Jenny Fernando / February 16, 2021
Comment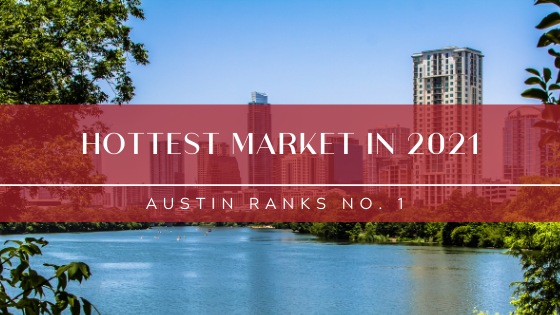 Austin is expected to be THE HOTTEST market in the U.S. in 2021. According to a new Zillow survey of experts, the top five cities are Austin, Phoenix, Nashville, Tampa, and Denver.
Our booming city tops the list due to the likelihood that our market will outperform the national average in terms of home value increases. A panel of experts from Zillow, including economists and real estate professionals, and investment strategists, share their predictions quarterly for the Zillow Home Price Expectations Survey.
Due to the cities popularity and continuous nation-wide accolades, the market rankings continue to increase while inventory continues to decrease. It is now more important than ever for homebuyers and investors that are looking to get in on the hot market to find the right realtor and for Austin sellers to talk with an experienced agent about the opportunities available for listing their homes.
"The Austin market is thriving! This is the lowest inventory market our city has seen since the data started being recorded. Now labeled a crisis because of the lack of inventory, many areas that usually have 100 listings for sale have less than 10," says KodiKay Cain, Director of Sales for Cain Realty Group. "Combined with the historically low interest rates, this market can work for you or against you, depending on your financial situation."
Top 15 Housing Markets: