Austin Named No 1 Fastest Growing City in America for 3rd consecutive year
Posted by Connor Client Concierge on Friday, March 29, 2013 at 3:07 PM
By Connor Client Concierge / March 29, 2013
Comment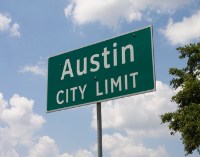 Austin nabbed the No. 1 spot for the third year in a row on the Forbes' list of "America's 20 Fastest Growing Cities."
Several factors contributed to Austin ranking highest on the list again. The capital city's economy has been booming in part due to the growing student body at the University of Texas, as well as powerhouse corporate businesses like Whole Foods and Dell, and several newer startup companies in Austin.
Texas has been a powerful force during the economic recovery. The US Census Bureau reports that over 427,000 people moved to the Lone Star State from 2011 to 2012. Dallas and Houston also ranked high on the list, as well as San Antonio.
To compile the list, Forbes used many factors including population, job and economic growth from this past year. They also included factors from federal unemployment reports, and considered medium income rates for employees with higher education.
The team at Cain Realty Group certainly agrees that Austin is a fast growing metro area. We have seen many clients move to the region over the past few years, and the Austin real estate market has definitely been heating up. Many home listings have gone under contract with multiple offers without even hitting the MLS, and currently we estimate that the city averages about 3 buyers per every seller.