Austin Makes it to List of Top Cities Where Home Values Drastically Appreciated in 2016
Posted by Connor Client Concierge on Tuesday, April 4, 2017 at 4:09 PM
By Connor Client Concierge / April 4, 2017
Comment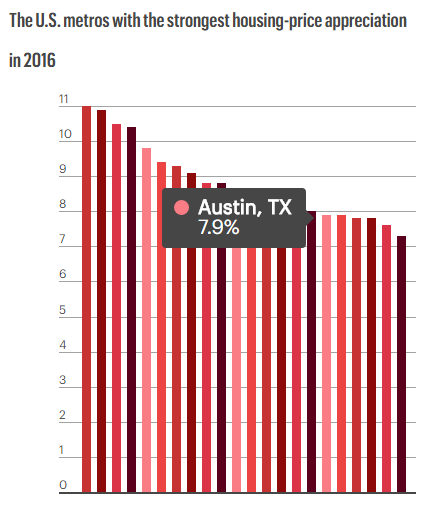 Austin is a thriving city with a truly growing economy, but there are just some sectors that cannot grow as well as the others. While industries such as technology and finance are booming in the Texas capital, we can't say that home-flipping is faring just as well in Austin.
Austin is among the list of cities where house-flipping rates are at the lowest (3.4%). This is primarily caused by a booming residential real estate market and extremely low inventory levels.
While other cities that have experienced a foreclosure crisis within the decade have exhibited amazing percentage increases in home sales that qualify as a "flip", this phenomenon excludes Austin. The home sales in Austin have consistently continued in spite of the speedbump other cities have experienced during the recent financial crisis. Due to the lack of supply in the local Austin market, it is extremely difficult to find under-priced homes that can be "flipped" to become profitable investments. In fact, Austin belongs to the list of top U.S. cities where home values have seen a constant increase in appreciation. The median sale price of a single-family home in the metro jumped 7% in 2016, while inventory sat at an unbalanced 2 months last December. Details about this can be found in a report by the Austin Board of Realtors.
For more information about this article, please access the Austin Business Journal article from which this post was based by clicking here.