Austin is in Top 20 U.S. Metros for Life Sciences Research Talent
Posted by Grace Diaz on Tuesday, June 21, 2022 at 3:08 PM
By Grace Diaz / June 21, 2022
Comment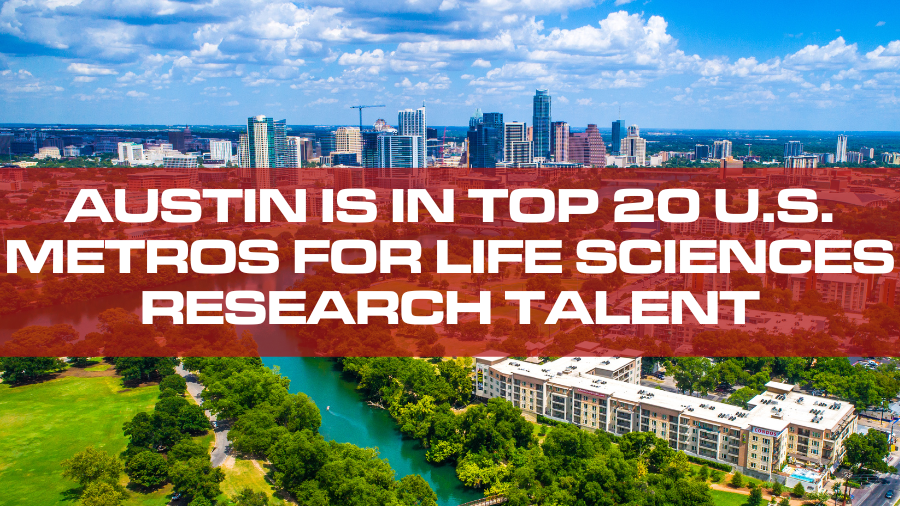 The Covid-19 pandemic is not a short-term crisis, the life sciences industry works tirelessly and manages to develop and manufacture vaccines to treat patients affected by this virus. Planning, conducting experiments, and analyzing the result of scientific research is the most vital role of a life science researcher.
According to CBRE, "More professionals are engaged in life sciences research in the U.S. than ever before. This group grew 79% between 2001 - 2021 compared with 8% growth for all U.S. occupations". Medical Scientists, Chemists, Biological Technicians and Scientists, Data Scientists/Math Science, Biochemists, Biophysicists, and Epidemiologists are some occupations in U.S. Life Sciences Researchers.
CBRE has identified the U.S. clusters that offer opportunities for life science research talent, and Austin places highly at #18 with a total score of 101.5. CBRE's analysis was evaluated on various occupational and educational data based on the 74 largest U.S. life sciences labor markets in metros with a population of at least 750,000.
Salaries are noticeably higher than other occupations, here are the average annual salaries for selected life sciences research occupations in Austin :

Biochemists - $91,931
Biomedical Engineers - $89,442
Chemists - $72,217

Biophysicists - $94,750
"The U.S. educational system continues to produce a record number of students with the skills to meet the demands of this sector and fuel its ongoing growth, sustaining the U.S.'s position as a global leader in the life sciences industry," CBRE added.