Austin Economy Named on Most International List in New Study
Posted by Megan, Client Concierge on Wednesday, November 27, 2013 at 11:36 AM
By Megan, Client Concierge / November 27, 2013
Comment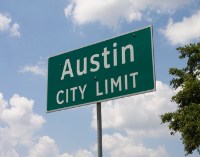 The Austin economy was named on a Most International List in the country by a recent study released by Brookings Institution. The study evaluated economies of other cities in the nation based on statistics from 2010.
The Austin-Round Rock-San Marcos area ranked ninth in percentage of international trade share, according to the report. Austin came in at 22.3 percent. Houston was the only other Texas city to make the list and ranked 5th in the country at 23.9 percent.
One main reason that Austin has such high international trade compared to others cities across the country include the city's technology industry involvement. Austin is home to many tech and electronic goods producers. In 2010, $46.3 billion of the total trade amount involved electronics.
San Jose-Sunnyvale-Santa Clara CA ranked the top spot on the list with 35.9 percents of the country's international trade share.
Austin also ranked ninth for most patents per capita of metro areas in the country. In 2010, Austin was involved in approximately $93.5 billion in traded goods.