Austin Area Soon to Cross the 2 Million Resident Mark
Posted by Ricky Cain on Tuesday, March 18, 2014 at 4:04 PM
By Ricky Cain / March 18, 2014
Comment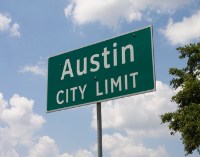 Austin and its surrounding areas are expected to surpass the 2 million population mark next year, according to Ryan Robinson, a local demographer. This area, which includes Travis, Bastrop, Hays, Caldwell and Williamson counties, has been adding approximately 110 new residents per day.
Current Homes for Sale in Austin
This comes as no surprise to current Austin residents, as the area has been consistently ranked as one of the fastest growing regions in the country year after year. Demographer Robinson believes that Austin may be able to catch up with the San Antonio population in the next decade.
About a third of the Austin metro area's growth surprisingly comes from natural increases, otherwise the differences in births and deaths. The other two-thirds of the growth increase is due to migration from both domestic and international means. From 2000 to 2010, twenty-three percent of the total population growth was international, predominantly from the neighboring country of Mexico. Asia also contributed to a segment of the international growth as well. During that same time period, forty-one percent of the total growth was due to domestic migration. A significant portion of this came from Texans relocating to the area.
The area's current population is at 1.92 million.
If you or anyone you know is looking to relocate to the area, the team at Cain Realty Group would love to help educate you on the current Austin market. We also offer a free Austin relocation guide. Find out more information on Austin Area Soon to Cross the 2 Million Resident Mark.