Austin Activities and Events - March
Posted by Ricky Cain on Monday, March 5, 2018 at 9:27 AM
By Ricky Cain / March 5, 2018
Comment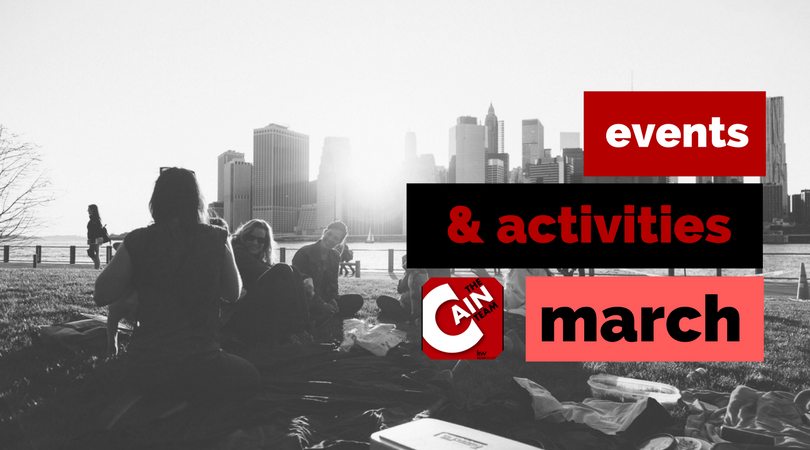 March is upon us and that means new exciting activities and events to enjoy with the whole family! Here is your one-stop shop for everything you need to know about Austin area events for the month of March.
March 8th: Movies in the Park - Moana @ Ramsey Park
7PM
Kick off the 2018 Movies in the Park season with a showing of Moana at Ramsey Park! Bring a blanket and come hungry, because food trucks will be at each movie this year. (FREE)
March 9th: Hook Free Outdoor Screening @ Community First Cinema
Grab chairs and a blanket, bring family and friends and enjoy this special screening of Hook.
Come as early as 6:30 pm to explore Community First! Village, pick your spot and enjoy your favorite movie snacks from the Community Grille. Burgers, french fries, snacks, and drinks will be available for purchase (cards and cash accepted!).
The event is free, however, a $5 donation would be highly appreciated. Donations can be made electronically when RSVPing to this event. We encourage you to support our Community Grille rather than bringing outside food and drinks.
March 10th: Art Free-For-All @ Laguna Gloria
Get to know all The Contemporary has to offer during this free, family-friendly open house. Enjoy hands-on Art School demonstrations, check out new sculptures on the grounds, take in a cool performance, and make art to take home.
This event will have music, food trucks, drinks, and more, so bring the family and spend a spring day at Laguna Gloria!
March 10th: Batman Family Day @ Mondo Gallery
We're flipping the switch on the bat signal during South by Southwest with a spectacular gallery show featuring the Caped Crusader with limited edition screen prints from Phantom City Creative's Justin Erickson.
The show will highlight Batman: The Animated Series, one of the most celebrated incarnations of Gotham's Dark Knight. The opening reception will be on Friday, March 9 from 6 – 10 pm and will be on display until March 12. The Mondo Gallery is located at 4115 Guadalupe St, Austin, TX.
March 10th: Tour the Gault Site @ The Williamson Museum
The Williamson Museum and The Gault School of Archaeological Research are hosting together special tours to Gault. The proceeds will support The Gault School of Archaeological Research and The Williamson Museum. Tours begin at 9 AM and last about 2 1/2 hours. Tour price is $10, children 10 and under are free. To purchase tickets, call 512-943-1670 or stop by the museum.
March 14th-17th: KUTX Children's Concert Series @ Four SeasonsGot little ones in tow? Spare the Rock Spoil the Child, our Sunday-evening kids' show, will offer kid-friendly (but parent-friendly, too) sets between the main-stage acts in the hotel's Lobby Lounge each day. Those interested in attending only the children's shows may purchase a wristband for $5 per adult or child; benefits still include the above breakfast treats, however, the wristband does not allow entry to the main stage.
March 17: Austin St. Patrick's Day Festival @ Pioneer Farms An authentic display of Irish culture and pride! Austin's best Irish Celebration! Adult tickets are $12, Children tickets are $4. Save on tickets online until March 12. Prices after March 12 are $15 adults $6 for kids.
March 24: Blanton Block Party @ Blanton Museum of ArtJoin us for a free day-to-night community festival to kick off Spring and celebrate the big changes on our block. It's the perfect opportunity to experience Ellsworth Kelly's "Austin,"
the
stand-alone building designed by the renowned artist as a place for "joy and contemplation" and now part of the museum's collection.
The Blanton Block Party is the perfect fusion of live music and world-class art, providing outdoor family art activities, local food, and tours throughout the day.
LIVE MUSIC: Austin music favorites including *Black Fret grant recipients will perform throughout the day.
March 31st: Travis Country Eash Bash @ Blue Valley Pool
Join your Travis Country Residents for the annual Travis Country Easter Bash. Cain Realty Group is excited to once again be sponsoring the Travis Country Petting Zoo and Pony Rides! In addition to our petting zoo, there will be an Easter egg hunt, balloon animals, breakfast and coffee, a raffle and other fun and excitement for the kids and of course the adults.The Travis Country Easter Bash will be at Blue Valley Park Saturday, March 31
st
from 9:00 AM to 11:00 AM. If you've never been to the Easter Bash, don't miss it. It's one of our favorite events in Travis Country, and we'd love to see you there!