Austin #2 Fastest Job Growth in U.S
Posted by Connor Client Concierge on Thursday, April 12, 2018 at 9:41 AM
By Connor Client Concierge / April 12, 2018
Comment
The Bureau of Labor Statistics released their final 2017 metro area job statistics recently and Austinites were not surprised! Austin has been ranked the #2 fastest city for job growth in 2017, by adding 22,200 new jobs with a growth of 2.2%.
Wholesale trade was the fastest growing industry in the Austin MSA, increasing jobs by 7.1% (3,500 jobs) over the last 12 months. Leisure and hospitality added the most jobs—6,000 (4.9% growth).
Manufacturing jobs grew 5.1% year-over-year, outpacing private industry growth for the seventh month in a row.
Austin's seasonally adjusted unemployment rate is 2.6%, reduced from 2.9% in September. Texas' rate fell below 4.0% for the first time since the published data begins in 1976.
WalletHub analysts also conducted a study on the fastest growing cities in the U.S, consisting of the following data: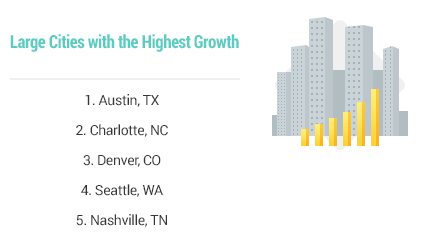 The comparison of 515 cities varying in population sizes based on two key factors, "sociodemographics" and "Jobs and Economy"
These dimensions were then evaluated using 15 relevant metrics. Each metric was graded on a 100-point scale, with a score of 100 representing the fastest economic growth. For each metric, they analyzed data spanning from 2010 to 2016 with the exception of "Unemployment Rate Decrease," "Job Growth" (from 2011 to 2016), "Increase in Number of Startups" (from 2010 to 2014) and "Increase in Number of Businesses" (from 2010 to 2015).
WalletHub then determined each city's weighted average across all metrics to calculate its total score and used the resulting scores to rank-order the cities. Each city was categorized in the following guidelines:
Large cities: More than 300,000 people
Midsize cities: 100,000 to 300,000 people
Small cities: Fewer than 100,000 people
As Austin continues to grow, so will the job market. If you or someone you know is thinking of relocating to the Austin area please take advantage of our Austin, TX Relocation guide. We would be happy to send you a complimentary guide to help serve you in your new adventure.