2016 is Best Year for Existing Home Sales in a Decade
Posted by Grace Theriot on Tuesday, January 24, 2017 at 4:00 PM
By Grace Theriot / January 24, 2017
Comment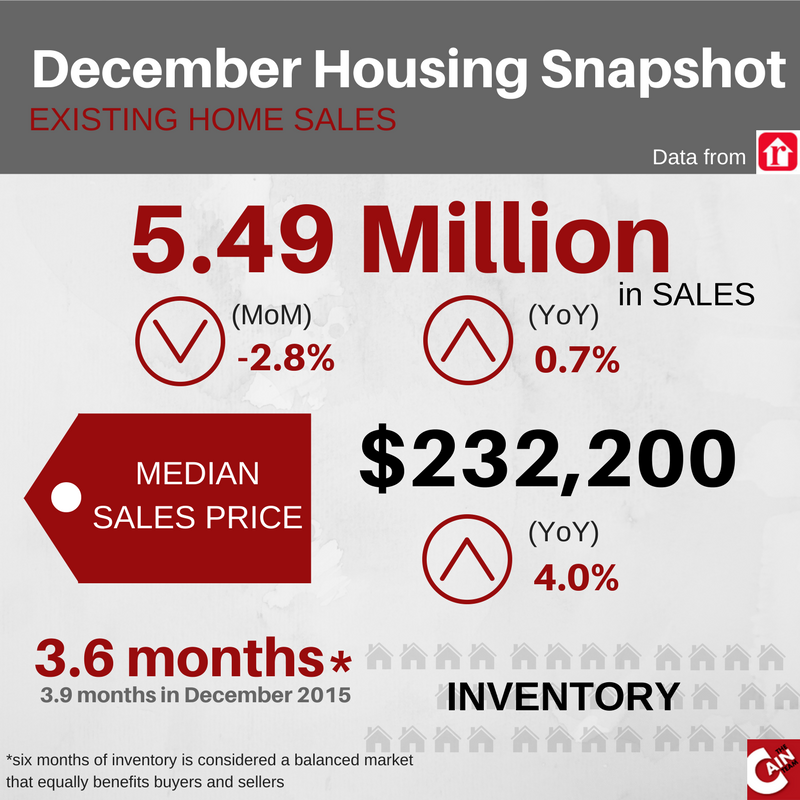 2016 is a year of frustrations as a shortage of available homes on the market gave buyers a tough time. However, a recent report compiled by the National Association of Realtors® indicates that 2016 is, in fact, the best year for existing home sales in a decade.
Over 5.45 million homes were purchased in 2016-- the highest since 2006 when 6.48 million homes were purchased. The data has been pre-adjusted to account for seasonal fluctuations over a 12-month period, so Realtor®'s recent report has been verified.
Joe Kirchner, a senior economist at Realtor.com®, says that the recovery from the U.S. housing bust is still ongoing. And with incomes getting higher, people are becoming confident to invest in homes once again.
December 2016 showed a sales drop of 2.8% compared to the previous month's November data. But still, it's 0.7% higher compared to that of December 2015. Experts interpret December's slowdown as the rush of buyers who closed on historically low mortgage rates in November. Otherwise, those buyers would have become homeowners in December.
And while there was a 0.9% price reduction from November 2016's data, December 2016's median price of $232,200 is still 4% higher compared to the same period's last year, thereby making December 2016 the 58th month in a row that year-over-year prices have climbed.
NAR's Chief Economist, Lawrence Yun, says that the shortage of homes for sale and increases in rental rates, home prices, and mortgage rates would all equate to a difficulty for first-time buyers finding a home. Experts predict that a mix of more job gains, stronger wages, and better purchasing power for first-timers are required for them to get a hold of their share of the market.
Want to know more about 2016's real estate trends? The Realtor.com® article from which this post was based can be accessed here.